Site Tour - Accurate Manufacturing Company, Inc.
Wednesday, May 10, 2023 (10:00 AM - 12:00 PM) (MDT)
Description
Join us for a tour of Accurate Manufacturing Company in Wilder!
Accurate Manufacturing Company has been making products for various industries to include medical, aftermarket automotive, and the film industry to name a few.
We now have our own product line of film industry products which are Cardellini Clamps and other Cardellini products. We have been making the Cardellini Clamps and Cardellini Products since shortly after their introduction into the market. In 2017 Steve Cardellini, the inventor of the Cardellini Clamp, and Accurate Manufacturing made an agreement to keep the Cardellini Clamp and Cardellini Products alive after Mr. Cardellini's retirement.
On May 1st, 2017 Accurate Manufacturing purchased 80% of the assets of Film Crew Services, which consists of Cardellini Clamps, Mini Clamps, Skinny-Mini Clamps, and Clamp Accessories. In addition to the 80% ownership, Accurate Manufacturing agreed to distribute the remaining products until another agreement is made.
We are especially proud of the team that we have assembled which works very well together to create the highest quality machined parts for not only the film industry, but many other sectors of industry.
Accurate Manufacturing Company provides first-class machined parts at extremely competitive pricing.
EYE PROTECTION REQUIRED.
Site tours are one of many benefits offered to IMA Members only. Not a member yet? Contact us today!
Images
Accurate Manufacturing Company Inc.
19734 Laht Creek Way



Wilder

,

ID

83676

United States



We are looking forward to seeing everyone this coming Wednesday.
Google maps has started navigating people down irrigation roads lately.
Please note the turn-by-turn directions and the corrected map below with directions starting at Greenleaf to our shop.
Our home and shop are on the same property.
Also, Laht Creek Way is the correct street however the sign says Laht Ct. (note the sign below and the mailbox with all the reflectors)
State Hwy 19 W/Main St/Simplot Blvd
4.8 mi
Turn left onto US-95 S (signs for State 19/Homedale/Winnemucca)
0.5 mi
Turn right onto Lower Pleasant Ridge Rd
1.5 mi
Turn left onto Laht Ct
0.2 mi
19734 Laht Creek Way
Wilder, ID 83676
(IF YOU MAKE IT TO HUN LN, YOU HAVE GONE TOO FAR)
We are the last property on Laht Ct and there is a flagpole in front of the house.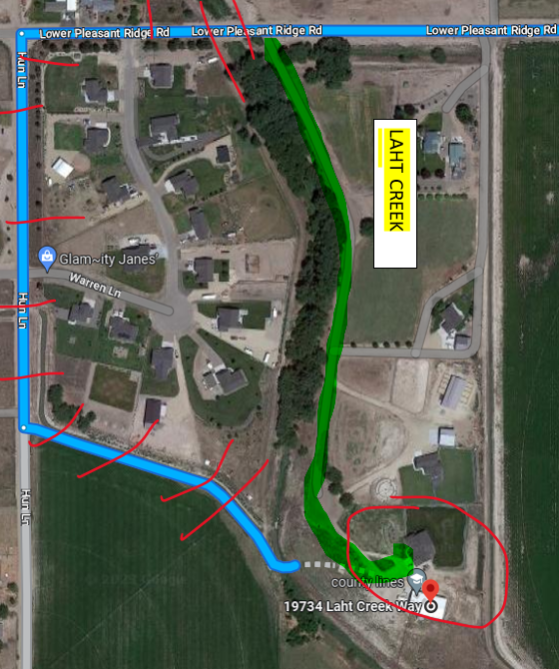 Wednesday, May 10, 2023 (10:00 AM - 12:00 PM) (MDT)
Tour begins at 10:00 and lasts about two hours. Coffee & donuts will be offered.
EYE PROTECTION REQUIRED.